Roll over image to zoom in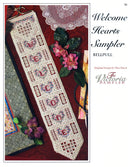 Description
A Welcome Bellpull or Sampler! An elegant bellpull for your entrance hall, this heart-shaped Hardanger, Drawn Thread work and the gorgeous colours and sparkling beads all enhance the message "Welcome with Love". It was so much fun to stitch, that I stitched it in two colourways! When I began designing Welcome Hearts Bellpull I decided to use the Flax linen for the burgundy lettering. Later I thought it might also look lovely and a bit more delicate on my favorite Platinum linen for a slightly softer feel. Of course I had to lighten the colours of the threads to more beautifully highlight the lighter linen! In this leaflet, we've included both colour ways. You can choose whichever colour way you like, or create one of your own to match your decor. Even though it looks very intricate, this Learning Sampler is really ideal for the beginner to intermediate specialty stitcher. You will practice Hemstitching and Hardanger techniques like Kloster Blocks, Algerian Eyes, Four-sided Stitches, Wrapping and Weaving, Dove's Eyes, Greek Crosses, and a wonderful edging stitch called Petite Blanket Stitch! I've also included an easy way to attach your bellpull fabric to the hardware! Nun's Stitch around the little flap at the top, fold over the bell pull hardware and tack it to the front with a few stitches left and right.. Never has finishing been this easy! If you change the lettering, then make one as an announcement for a baby's arrival, or you can create your own word for any other occasion, like a graduation, or hang a name or other message beside your bedroom door! I've had my burgundy model hanging in my front hallway for a while now and my guests often admire the cutwork of this stitched message of hospitality, commenting on the complicated stitching. My Mom has hung the more delicate softer coloured one, and loves it in her small condo! It appeals to so many people, timeless in its elegance. Create one for a special friend or family member, to welcome your guests into your home, and enjoy the many compliments you get about your stitching. Enjoy your stitching! - Thea
Design Area: 40w x 206h (2.85" wide X 14.75" high)
Model: 28ct Flax Cashel - red colourway 28ct Platinum Cashel - heirloom pink colourway.
Cut fabric: 6" wide X 18" high for bellpull finishing (9" X 21" for framing.) 
Suggested Materials for Victorian Red Version
Caron- Waterlilies #112 "Fir" - blue greens
Kreinik Mori #4077 - green dk
Kreinik Mori #1096 - rose dk
Kreinik Mori #0104 - rose lt
Needlepoint Inc. #0981 - platinum
SJ Designs petite beads #1817 - burgundy
Suggested Materials for Heirloom Pink version
Kreinik Mori #0434 - green lt
Kreinik Mori #4076 - green med
Kreinik Mori #0115 - rose med
Kreinik Mori #0104 - rose lt
Needlepoint Inc. #0981 - platinum
Mill Hill petite beads #42027 champagne
Additional Materials:
Zweigart 28ct Cashel Linen - Flax OR Platinum
DMC Perle #8 Cotton #712 - creme
DMC Perle #12 Cotton #712 - creme
#24 tapestry needle
#10 short beading needle
Stitches used in this Sampler:
Cross Stitch
Backstitch
Beadwork
Satin Stitch
Four Sided Stitch
Double Hemstitching
Nun's Stitch
Klosters
Woven Bars
Wrapped Bars
Dove's Eyes
Greek Cross
Petite Blanket Stitch
Alergian Eyelets 
---
PDF Pattern Purchase and Download Instructions
Copyright Reminder: As a quick reminder, all of our PDF patterns are copyright protected and – as with all our patterns – are not permitted to be copied or distributed. We appreciate you sharing links here with your friends rather than sharing the actual PDFs :) Thank you!
Payment & Security
Your payment information is processed securely. We do not store credit card details nor have access to your credit card information.