Roll over image to zoom in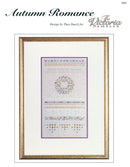 Description
The season of autumn is a season of change. Summer gives us a last thrill with lovely late blooming heathers and chrysanthemums, fiery red and yellow leaves then cover the hillsides, while frosty mornings herald the coming of winter. This Autumn sampler stitched in sparkling gold with colours of violet, green and sky blue, the shades of a beautiful Victorian garden in late September. Included in the directions is a second colour scheme for those stitchers more at home with the traditional colours of late fall. This is the last sampler in a series including White Christmas, Child of Spring and Summer Dreams. 
Design Area: 64w X 126h (4" wide X 7.75" high)
Model: 32ct antique white Belfast  
(Cut fabric: 10" wide X 14" high)
Suggested Materials

Waterlilies Silk Pistachio Nut
DMC Flower Thread #2316
Pearl Beads 2mm
DMC floss #3032, white
Kreinik Blend. Fil. #093 Mauve
Kreinik Blend. Fil. #002HL Gold
Kreinik #8 Braid 002HL Gold
Kreinik Cord #002C Gold
DMC Perle Cotton #12 white
DMC Perle Cotton #8 white
32ct Belfast Linen - white
#24 tapestry needle
#10 short beading needle
Stitches used in this Sampler:

Cross Stitch
Backstitch
Queen Stitch
Beadwork
Couching
Inverted Interlaced Hemstitch
Closed Herringbone
Pins
Reverse Wave Stitch
Lazy Daisy Stitch
French Knots
Leaf Stitch
Satin Cushion Stitch
Closed Herringbone Hemstitch
Satin Stitched Triangles
Diamond Eye Stitch
Satin Stitched Kloster Blocks
Kloster Blocks
Modified Kloster Blocks
Wrapped Bars
Divided Woven Bars
Doves Eyes
---
PDF Pattern Purchase and Download Instructions
Copyright Reminder: As a quick reminder, all of our PDF patterns are copyright protected and – as with all our patterns – are not permitted to be copied or distributed. We appreciate you sharing links here with your friends rather than sharing the actual PDFs :) Thank you!
Payment & Security
Your payment information is processed securely. We do not store credit card details nor have access to your credit card information.