Roll over image to zoom in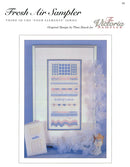 Description
Third in the "Four Elements" series! The Fresh Air Sampler is the third in the "Four Elements" Series! A lovely Hardanger window with lacy curtains on each side is placed at the top of this sampler. Through the window you can just see the lovely blue sky that is the inspiration of this piece. I've chosen some soft colours that remind me of a beautiful sunrise for the body of the sampler, and added more stitching in white to lighten the mood. The little birds made of delicate silver in the center and the sparkling silvery beads throughout, give a wonderful feeling of light and movement. I hope you enjoy stitching this sampler as it is, or enjoy using different words for other special occasions.. like a birthday, the the birth of a baby, or a christening!

Design area: 120h x 46w (8" high x 3 1/4" wide)
Model: 28ct White Quaker Cloth 
(Cut fabric: 14" h X 9" w)
Suggested Materials
Caron Waterlilies "Morning Mist"
Au Ver a Soie – Soie D'Alger – #4147 - rose
S.J. Designs Beads #1818 - #14 - petite silver
Mill Hill Antique Glass Bead 03050 - champagne
Kreinik #4 Braid 9294- blue
Kreinik #4 Braid 9300 - pink
Kreinik Cable – 001P - silver
1 Tiny Rose Quartz Heart (Access Commodities)
DMC #12 Perle Cotton - white
DMC #8 Perle Cotton – white
DMC flosses # 341, 3747, white
28ct Quaker Cloth or Cashel Linen - white
#24 tapestry needle
#10 short beading needle
Stitches used in this Sampler:

Cross Stitch
Backstitch
Beadwork
Satin Stitch
Woven Bars
Divided Wrapped Bars
Doves Eyes
Partial Greek Cross
Satin Stitch Hearts
Couching
Gobelin Stitch
Partial Honeycomb Hemstitching
Pulled Thread
Scotch Stitch
Plait Stitch
Modified Fly Stitch
Four Sided Hemstitch
Partial Diamond Eye Stitch
Pulled Bricking
Interlaced Hemstitch
Bargello
---
PDF Pattern Purchase and Download Instructions
Copyright Reminder: As a quick reminder, all of our PDF patterns are copyright protected and – as with all our patterns – are not permitted to be copied or distributed. We appreciate you sharing links here with your friends rather than sharing the actual PDFs :) Thank you!
Payment & Security
Your payment information is processed securely. We do not store credit card details nor have access to your credit card information.