Roll over image to zoom in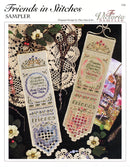 Description
"Friends Stitching Together..." Zinnias, Gillyflowers and Chrysanthemums (symbolizing thoughts of friends), and Forget-me-nots (symbolizing faithful love and memories) are represented in this elegant and dainty Friendship sampler. The Friends in Stitches bellpull has been stitched with two different colourways to give you lots of options, and to show its versatility. The matching beads are added for that extra sparkle, and the use of delicate gold braid adds a touch of golden sunlight for happiness. At the bottom of the sampler, the exquisite Hardanger heart symbolizes the love between stitching friends. I stitched this sampler to celebrate the joyful giving and receiving of friendship and love of stitchers in my life, so I hope you also stitch this meaningful and lovely sampler, personalize it and share it with your family, or special friends as a remembrance of your fun times together! - Thea
Design area: 158h x 38w (11.25" high x 2.7" wide)
Models: Pink Shades: 28ct Cashel - Summer Khaki Blue Shades: 28ct Pearl Grey
Cut fabric: 16" high X 7" wide for framing or bellpull
Suggested Materials for Rose Pink Colourway 
Caron Watercolors #031- Rose Quartz
Au Ver A Soie #creme - cream
Kreinik #4 Braid #002 - gold
Kreinik Silk Mori #0115 - pink med
Kreinik Silk Mori #1205 - pink dark
Kreinik Silk Mori #0724 - butterscotch
Kreinik Silk Mori #4076 - green med
DMC Floss #520 - green dk
Mill Hill seed beads #00553 - pink
Suggested Materials for Blue Colourway 
Caron Collection Watercolors #159 - Silver Blue
Kreinik Silk Mori #7124 - antique white
Kreinik #4 Braid #002 - gold
Needlepoint Inc. #0897A blue med
Kreinik Silk Mori #5014 blue dk
Kreinik Silk Mori #5053 blue lt
Kreinik Silk Mori #4076 - green med
DMC Floss #520 - green dk
SJ Designs #59P - rainbow seed beads
Additional Materials Needed:
28ct Cashel Linen: Pink Shades - Summer Khaki, Blue Shades - Pearl Grey
DMC #8 Perle Cotton #712 - cream
DMC #12 Perle Cotton #712 - cream
#24 tapestry needle
#10 short beading needle
Stitches used in this Sampler:
Cross Stitch
Backstitch
Three Sided Eyelet
Foliage Stitch
Lazy Daisy Stitch
Smyrna Cross
Scotch Stitch
Zig Zag Stitch
Upright Cross Stitch
Four-Sided Hemstitch
Kloster Blocks
Algerian Eyelets
Divided Wrapped Bars
Dove's Eyes
Partial Greek Cross
Blanket Stitch
Nun's Stitch
---
PDF Pattern Purchase and Download Instructions
Copyright Reminder: As a quick reminder, all of our PDF patterns are copyright protected and – as with all our patterns – are not permitted to be copied or distributed. We appreciate you sharing links here with your friends rather than sharing the actual PDFs :) Thank you!
Payment & Security
Your payment information is processed securely. We do not store credit card details nor have access to your credit card information.