Roll over image to zoom in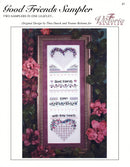 Description
"Good Friends listen with their Hearts...." These two sampler designs grew out of a special friendship, and I hope you enjoy stitching them. A year ago, I asked Yvonne to co-design a small free pattern for our online stitching group. I showed her my floral amethyst, violet, green and white Hardanger heart, and she created a matching floral Pulled Thread heart. After placing them side by side on antique white linen, we were going to present our gift to the group in September 2003. However, during the summer months, Yvonne unexpectedly and tragically became crippled by rheumatoid arthritis, and we reluctantly had to let the idea go. Months later, as Yvonne was working hard to deal with her new challenges, and with her permission, I began to stitch these two hearts into a healing sampler in her honour. Adding my bands, I included her beautiful floral heart and changed the colours of one of her previously used floral bands. On the front cover of this leaflet is the result. On the back cover, you'll see the original horizontal side by side hearts as we stitched them a year ago, plus her gorgeous floral border. I also added the words in both samplers. Meanwhile, with the help of the Arthritis Society, her friends and her family...Yvonne's hands improved enough to do many of the things she was unable to do before, including designing part time. Her latest design is called "Sentimental Roses" - Thea

'Good Friends' Vertical Sampler

Design Area: 48w x 171h (3.5" Wide x 12.25" High)
Model: 28ct Cashel Linen - Antique White 
Cut fabric: 10" X 19" for framing)

'Good Friends' Horizontal Sampler

Design Area: 86h x 126w (6.1" High x 9" Wide)
Model: 28ct Cashel Linen - Antique White 
Cut fabric: 12" X 15" for framing

Suggested Materials

Caron Collection "Waterlilies" - #112 Fir
Thread Gatherer Silk N Colors SNC 055 - Grape Melange 
Access Trebizond TRA595 - purple
Access Au ver a Soie #1343 - purple med
Access Au ver a Soie #3334 - purple lt
Kreinik Mori #8000 - white
Kreinik Mori #4077 - green dk
Kreinik Mori #6083 - purple dk
Kreinik Mori #6116 - pink
Island Fibres 4mm silk ribbon #62 "Sweet Pea"
YLI 4mm silk ribbon - #33 - green
SJ Designs petite beads #1805 - white
SJ Designs seed beads #1165 - lavender
SJ Designs 2mm pearl beads - bright pink
28ct Cashel Linen - Antique White 
DMC Perle Cotton #12 white
DMC Perle Cotton #8 white
#24 Tapestry Needle
#10 short Beading Needle
#7 Milliner/Straw Needle
Stitches used in this Sampler:

Smyrna Cross
Lattice Work
Upright Cross
Beadwork
Colonial Knot
Bullion Knot Roses
Lazy Daisy
Fly Stitch
Feather Stitch
Backstitch
Herringbone
Scotch Stitch
Algerian Eyelet
Rhodes Heart
Cross Stitch over two
Cross Stitch over one
Hemstitch
Satin Stitch
Partial Rhodes Stitch
Japanese Ribbon Stitch
Kloster Blocks
Woven Bars
Dove's Eye
Wrapped Bars
Partial Greek Crosses
---
PDF Pattern Purchase and Download Instructions
Copyright Reminder: As a quick reminder, all of our PDF patterns are copyright protected and – as with all our patterns – are not permitted to be copied or distributed. We appreciate you sharing links here with your friends rather than sharing the actual PDFs :) Thank you!
Payment & Security
Your payment information is processed securely. We do not store credit card details nor have access to your credit card information.