Roll over image to zoom in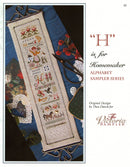 Description
"H" is for Homemaker is the eighth in a set of 24 charming and eclectic combination samplers that focus on a different letter of the Alphabet. It includes various decorative alphabet letters, hundreds of new and traditional spot motifs and specialty stitches all starting with the letter "H". The very last sampler includes X, Y and Z. Each sampler is stitched using a palette of earthy yet vibrant colours of silk floss, gloriously delicious overdyed silks, perlee silks, and beads. If you are planning to finish one sampler at a time, you can use the placement of the hemstitching on the Main Chart to help you edge a bellpull, or you can either include or leave out the hemstitching and frame as is. You might also want to stitch one or several of the samplers side by side, to match the initials in your name, or the initials of a couple's last names! Another way to use the 24 samplers is to stitch each successive sampler on a large piece of linen to make a gorgeous Heirloom Alphabet Wallhanging. Check the set-up instructions in this sampler leaflet, for the size of the 28ct Platinum Linen recommended for this hanging and where to place the "H" sampler. I have included instructions for the DIVIDING BANDS for a wallhanging in this leaflet! No matter what you decide to do with your alphabet samplers, each one will give you hours of stitching fun while you learn, alphabetically! - Thea
Design area: 44w x 180h (3.1" Wide x 12.85" High)
Model: 28ct Cashel Linen - Platinum:
Cut fabric: 9" wide x 19" high
Suggested Materials

Gloriana Silk #135 "Bellagio" - multi blue, green, cherry, gold, mauve - 1 yd
Gloriana Silk #045 "Lacquered Gold" - multi gold - 1 yd
Gloriana Silk #116 "Olive Grove" – multi greens - 1 yd
Caron Waterlilies #155 "Steel" – multi blues - 1 yd
Au ver a Soie Perlee Creme - 6 yd
Au ver a Soie Perlee #58 jade green - 2 yd

Au ver a Soie Perlee #550 grey green - 4 yd
Kreinik #4 Braid #102 - vatican gold - 3 yd
Kreinik #4 Braid #008 - green - 1 yd
Kreinik #4 Braid #421 - red - .5 yd
Kreinik Mori #0103 – rose lt - 1.5 yd
Kreinik Mori #0602 - pink vy lt - 1 yd
Kreinik Mori #6126 - purple dk - 1 yd
Kreinik Mori #4212 - olive green lt - 1 yd
Kreinik Mori #4216 - olive green dk - 1.5 yd
Kreinik Mori #8000 – white - 1 yd
Kreinik Mori #8050 – black - 1 yd
Needlepoint Inc. #0143– red med - 1 yd
Needlepoint Inc. #0964 - taupe med - 1 yd
SJ Designs seed bead #11059 – silver
SJ Designs seed bead #1817 - cranberry sparkle
SJ Designs petite bead #1805 – white
Gold Heart Charm
28ct Cashel Linen - Platinum or other choice
DMC #12 Perle Cotton #642 taupe lt 
#24 tapestry needle
#10 short beading needle
Stitches used in this Sampler:
Holbein Stitch
Hungarian X Stitch
Half-Rhodes Stitch
Half Stitch
Honeycomb Hem Stitch
Hardanger
Honeycomb Filling Stitch
Hungarian Stitch
Herringbone Stitch
Herringbone Ladder Filling Stitch
Herringbone Lace Stitch
Backstitch
Cross Stitch
Beadwork
French Knots or Colonial Knots
Cross Stitch over one fabric thread
Straight Stitch
Lazy Daisy Stitch
---
PDF Pattern Purchase and Download Instructions
Copyright Reminder: As a quick reminder, all of our PDF patterns are copyright protected and – as with all our patterns – are not permitted to be copied or distributed. We appreciate you sharing links here with your friends rather than sharing the actual PDFs :) Thank you!
Payment & Security
Your payment information is processed securely. We do not store credit card details nor have access to your credit card information.