Roll over image to zoom in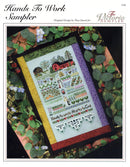 Description
"Hands to work... Hearts to God"  This old saying is just right for my imaginary little Kitchen Garden! Stitched on pale blue/grey 28ct cashel linen, and using delectable silk flosses, silk perlees, beads and overdyed silks, this delightful garden sampler is a depiction of a 19th Century kitchen garden patterned after the one in Olde Sturbridge Village, MA. As you walk into the garden at the bottom of the sampler you can see beds of carrots, radishes, and cabbages on either side. A household servant has a basket in her hand and of course has found a wee frog among the radishes! The onions, squash, potatoes and strawberry beds and further on the cauliflower, peas, parsnips and lettuces are interspersed with specialty stitch bands for your learning enjoyment. There are also a few herbs and flowers sprinkled among the vegetables as they kept away insects and were very prized for cooking. Behind the houses at the top you can see a couple of trees, which indicate a big orchard of pear, peach, plum and cherry trees. There are two houses pictured at the top of the sampler. The red house is a depiction of the old Freeman Farmhouse and the smaller one is the Fenno House both found in the original village. This Learning Sampler is for the beginner through intermediate specialty stitcher. You can practice lovely stitches such as Satin Stitches, Backstitches, French Knots, Queen Stitches, Leviathan Stitches, Vault Stitches, Lazy Daisies, Cross Stitch over one fabric thread, and simple Kloster Blocks, Dove's Eyes and Partial Greek Crosses at bottom. This sampler can hang in your kitchen or near the door to your garden, so you can take the saying to heart as you head out to cultivate or harvest the fruits of your labour. Enjoy stitching this summer bounty!  - Thea
Design area for Sampler: 56w x 101h (4" wide x 7.2" high)
Model: 28ct Cashel Linen - Confederate Grey 
Cut fabric: 8" wide X 12 high" for framing or bellpull finishing
Suggested Materials
Access Soie Perlee #creme - cream
Caron Wildflowers #067 "Celedon" - greens lt
Weeks floss "Molasses" - browns dk
Gentle Art floss "Brandy" - golds
Access Au ver a Soie #1344 - purple
Access Au ver a Soie #2126 - green med
Access Au ver a Soie #3043 - flesh
Needlepoint Inc. #0226 - red
Access Soie Perlee #058 - mint green med lt
Caron Wildflowers #121 "Evergreen" - blue/greens
Caron Waterlilies #017 "Blue Lavender" - multi blue, lavender
Gloriana silk #096 "Summer Foliage" - grass greens
Needlepoint Inc. #973 - med brown
GA floss "Dried Thyme" - avocado greens
GA floss "Burnt Orange" - oranges
Kreinik Mori #8000 - white
Access Soie Perlee #550 - grey green med
Weeks #1277 "Collards" - greens dk
Weeks #2220 "Curry" - yellows
Weeks #2258 "Aztec Red" - reds lt
Kreinik Mori #0434 - avocado lt
Kreinik Mori #6114 - pink med
Kreinik Mori #8050 - black
Zweigart 28ct Cashel Linen - "Confederate Grey"
DMC #12 Perle Cotton - white
#24 Tapestry Needle
Stitches used in this Sampler:
Cross Stitch
Backstitch
Satin Stitch
Upright Cross Stitch
Lazy Daisy Stitch
Cross Stitch over ONE fabric thread
Modified Rice Stitch
Double Leviathan
Kloster Blocks
Woven Bars
Dove's Eyes
Algerian Eyelet
French Knot
Queen Stitch
Double Upright Cross Stitch
Vault Stitches
Partial Greek Cross
---
PDF Pattern Purchase and Download Instructions
Copyright Reminder: As a quick reminder, all of our PDF patterns are copyright protected and – as with all our patterns – are not permitted to be copied or distributed. We appreciate you sharing links here with your friends rather than sharing the actual PDFs :) Thank you!
Payment & Security
Your payment information is processed securely. We do not store credit card details nor have access to your credit card information.