Roll over image to zoom in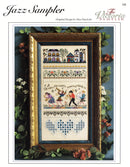 Description
"Oh, when the Saints... Go Marching in....!"  I had a great time creating this jazz themed sampler as I have been surrounded by music, particularly jazz, from an early age. I have enjoyed music all my life. I've sung in bands, in church, majored in music in college, and was a soloist as well as part of several amateur chamber choirs for many years, but the improvisation and soul of jazz captured my heart early, and is now the music I listen to as a counterpoint to my other favorite, choral music. New Orleans is an amazing city and Jazz forms the soundtrack of its spirit. The top band is a representation of the Garden District and the French Quarter in New Orleans, with balconies and colourful old architecture. The floral band incorporates the Fleur de Lis which was adopted as a symbol for French culture. In the middle I created a band of 'female' Jazz players! As they walk along, they are playing some of the more well known instruments you can hear in the city parades. Of course the words of the song they're playing is now legendary! Some Scotch Stitches follow, and then a lovely band of blackwork hearts, reminiscent of the exquisite wrought ironwork throughout the old parts of the city. The elegant Hardanger Heart at the bottom represents my love for this city of joy, renewal and music. Stitch this exciting musical Sampler to show your support for the spirit of Jazz and of New Orleans! -Thea
Design Area: 74w x 156h (5.3" wide x 11.1" high)
Model: 28ct Cashel Linen - Light Sand:
Cut fabric: 12" wide X 17" high for framing 
Suggested Materials

Access Soie Perlee #Creme - cream (1 - 16m spool)
Dinky Dyes #124 "Freo" - gold, purple, teal
Kreinik Mori #0103 - flesh
Kreinik Mori #4044 - turquoise
Kreinik Mori #8050 - black
Access Au ver a Soie #3334 - purple
Needlepoint Inc. #0184 - brown
Needlepoint Inc. #0694 - gold
Kreinik #4 Braid #002 - metallic gold
Kreinik Mori #3063 - salmon
Kreinik Mori #4167 - green dk
Kreinik Mori #5055 - blue
Kreinik Mori #8000 - white
Needlepoint Inc. #0121 - tan
Needlepoint Inc. #0964 - grey brown
Mill Hill petite beads #40557 - gold
Trumpet charm - antique gold
Zweigart 28ct Cashel Linen - Light Sand
DMC #12 Perle Cotton - White
#24 tapestry needle
#10 short beading needle
Stitches used in this Sampler:
Cross Stitch
Lazy Daisy Stitch
Back Stitch
French Knots
Herringbone Stitch
Satin Stitch Triangles
Plait Stitch
Modified Double Rice Stitch
Cross Stitch over ONE fabric thread
Triple Herringbone Hemstitch
Scotch Stitch
Four-Sided Stitch

Smyrna Cross
Running Stitch
Algerian Eyelet
Kloster Blocks
Divided Wrapped Bars
Woven Bars
Doves Eyes
Partial Greek Cross
---
PDF Pattern Purchase and Download Instructions
Copyright Reminder: As a quick reminder, all of our PDF patterns are copyright protected and – as with all our patterns – are not permitted to be copied or distributed. We appreciate you sharing links here with your friends rather than sharing the actual PDFs :) Thank you!
Payment & Security
Your payment information is processed securely. We do not store credit card details nor have access to your credit card information.