Roll over image to zoom in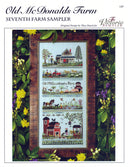 Description
"Old McDonald had a Farm, ee-aye ee-aye ohhhh... " - Children's song  There are so many wonderful small family farms near my home, and I wanted to depict a typical small farm with many different animals. Old McDonald's Farm is a companion to the Pumpkin Patch Farm, Babe's Honey Farm, Ravenhill Farm, Oldfield Orchard Farm, Strawberry Fields Farm and Jingle Bells Christmas Tree Farm. This latest Farm Sampler honours a simple multi-purpose farm called McDonald's farm, located near where I live on Vancouver Island. At the top of the Sampler you'll find McDonald himself standing near his house with the dog that goes "woof - woof". His farm hand is bringing hay to the cows, and feed to the sheep, while the pigs and goats contentedly playing nearby. Below you can see his daughter has ridden her horsie to the pond where the ducks are "quack - quacking". At the bottom of the sampler are his wife feeding the chickens and hens, a few birds and another cow gently moo-ing in the paddock. Fun for your kids and yourself, enjoy stitching this new Farm Sampler!
Design area: 72w x 175h (5.1" wide x 12.25" high)
Model: 28ct Cashel Linen - Ice Blue:
Cut fabric: 11" wide x 18" high 
Suggested Materials
Access Soie Perlee (thin twist) #550 - green
Caron Waterlilies #011 "Pebbles" - multi lt
Gloriana #117 "Elizabethan Green" - greens dk
Kreinik Mori #8050 - black
Needlepoint Inc. #113 - bright blue
Needlepoint Inc. #126 - brick red
Needlepoint Inc. #751 - pink lt
Needlepoint Inc. #761 - tan
Waterlilies #046 "Rose Blush" - pink, green, yellow
Gloriana silk #206 "Olivine" - olive med
Needlepoint Inc. #184 - brown
Needlepoint Inc. #324 - antique blue dk
Needlepoint Inc. #515 - blue green
Needlepoint Inc. #635 - brick red lt
Needlepoint Inc. #694 - gold
Needlepoint Inc. #753 - pink
Gloriana silk #178 "Mocha" - browns
Dinky Dyes #019 "Rainforest" - blue greens
Kreinik Mori #0524 - blue lt
Kreinik Mori #1114 - red
Kreinik Mori #6116 - mauve
Kreinik Mori #8000 - white
Needlepoint Inc. #401 - grass green
Needlepoint Inc. #554 - yellow
SJ Designs petite bead #1805 - white
SJ Designs petite bead #1818 - silver
SJ Designs petite bead #1848 - sea green
Zweigart 28ct Cashel Linen - Ice Blue 
#24 tapestry needle
#10 short beading needle
Stitches used in this Sampler:
Cross Stitch
Cross Stitch over ONE fabric thread
Back Stitch
Lazy Daisy
French Knot
Herringbone Stitch
Plait Stitch
Triple Cross Stitch
Scotch Stitch
Modified Smyrna Cross Stitch  

---
PDF Pattern Purchase and Download Instructions
Copyright Reminder: As a quick reminder, all of our PDF patterns are copyright protected and – as with all our patterns – are not permitted to be copied or distributed. We appreciate you sharing links here with your friends rather than sharing the actual PDFs :) Thank you!
Payment & Security
Your payment information is processed securely. We do not store credit card details nor have access to your credit card information.