Roll over image to zoom in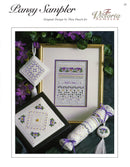 Description
A Needleroll, Boxtop and Scissors Fob set - 
Sweet faced purple and yellow Pansies, beloved of gardeners everywhere, are featured in this exquisite little sampler design mostly stitched in silk floss. In the romantic language of flowers, the pansy was also called "Heart's Ease" for its ability to cure the heart of any sadness and pain. Elegant whitework frames the dainty gold hearts, the pansy vine, the accents of soft gold and the violet cross stitched silk pansies. Purple beads and white pearls shimmer softly throughout this little sampler. Make the box cover, the scissor fob, and frame or fashion the sampler into a needleroll. All can be given to a loved one as tokens of healing and love!
"Heart's Ease or Pansy, pleasure or thought,
Which would the picture give us of these?
Surely the heart that conceived it sought… Heart's Ease.
Deep flowers, with luster and darkness fraught,
From Glass that gleams as the chill still seas
Lean and lend for a heart distraught… Heart's Ease."
-A.C. Swinburne

SAMPLER (NEEDLEROLL) :

Design area: 79h x 54w (5" high x 3 1/3" wide)
Model: 32ct Belfast Linen Antique White   
Cut fabric: 11" high X 10" wide for framing. (Cut fabric: 11" h X 7" w for needle roll.)

BOX TOP:

Design area: 68w x 68h (4 1/4" wide x 4 1/4" high)
Model: 32ct Belfast Linen Antique White 
(Cut fabric: 9" w X 9" h for box top)

SCISSOR FOB:

Design area: 18w x 12h (1" wide x 3/4" high)
Model: 32ct Belfast Linen Antique White 
(Cut fabric: 4" x 4" for scissors fob)

Suggested Materials:
Au Ver A Soie #1834 – med green
Au Ver A Soie #1344 - dk violet
Au Ver A Soie #1343 - med violet
Au Ver A Soie #F7 - yellow
Au Ver A Soie #545 - tangerine
Au Ver A Soie – noir (black)
Au Ver A Soie #1844 – dk green
Au Ver A Soie – blanc (white)
Kreinik Mori #5091 – lt violet
DMC Perle Cotton #12 - #3823 yellow
Kreinik #4 Braid #002 - gold
Mill Hill Beads #2069 - purple
S.J. Designs 3mm Pearl Beads -white
S.J. Designs 2mm Pearl Beads - white
Heart Charm (for Box Top only)
DMC #8 Perle Cotton - white
DMC #12 Perle Cotton - white
32ct Belfast Linen - Antique White
#24 tapestry needle
#10 short beading needle
Stitches used in this Sampler:

Cross Stitch
Backstitch
Three Quarter Stitch
Beadwork
Satin Stitch
Pulled Reverse Wave Stitch
Pins Stitch
Long Stitch
Long Arm Cross Stitch
Serpentine Hemstitch
Herringbone Stitch
Rhodes Heart Stitch
Four Sided Stitch
Kloster Blocks
Modified Kloster Blocks
Divided Wrapped Bars
Algerian Eye Stitch
Greek Cross Stitch
Partial Greek Cross Stitch
Doves Eye
There is no accessory Pack for this design. 
---
PDF Pattern Purchase and Download Instructions
Copyright Reminder: As a quick reminder, all of our PDF patterns are copyright protected and – as with all our patterns – are not permitted to be copied or distributed. We appreciate you sharing links here with your friends rather than sharing the actual PDFs :) Thank you!
Payment & Security
Your payment information is processed securely. We do not store credit card details nor have access to your credit card information.