Roll over image to zoom in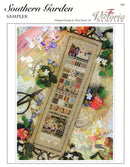 Description
"Southern Garden" is simply dripping with Southern charm yet it contains many many stitches for the avid stitcher! The inspiration for this lovely garden was my visit to Savannah with it's many parklike 'squares' planned to be an integral part of the original city. At the top you can see the warehouses by the river as well as a riverboat. Moving down the sampler I created 24 'garden' squares made of specialty stitches with a wee little frog included in the middle! At the bottom, you can see southern belles having mint juleps under the shade of a typical Live Oak tree beside some wrought iron fencing which you can find all throughout the South. You will learn many different stitches, the easy way! Satin Stitches, Double Running, Broad Crosses, Half Rhodes, Diamond Ray, Double Straight Crosses, Diagonal Butterfly, Double cross Eyelets, Algerian Eyelets, Chequer Filling, Bowtie, Arrow, Eyelet Flower, Fancy Brick, Modified Fern, Cloud Filling, Double Leviathan, Double Cross, Elongated Rhodes, Crossed Crosses, English, Bound Cross, Flower, Reversed Eyelet, Encroaching Stem, Expanded Ray, Four Sided, Lazy Daisy, French Knots, Backstitches and Cross Stitches. Enjoy stitching this example of a lovely Southern Garden with true Southern hospitality. :) - Thea
Design Area: 44w x 165h (3.1" wide x 11.8" high)
Model: 28ct Cashel Linen - Raw Linen:
Cut fabric: 9" wide x 18" high for framing 
Suggested Materials

Access Soie Perlee #Creme - cream (16m spool)
Gloriana silk #045 "Lacquered Gold" - multi golds
Gloriana silk #116 "Olive Grove" - multi greens
Caron Collection Waterlilies #155 "Steel" - grey blues
Kreinik Mori #6124 - purple med
Kreinik Mori #6126 - purple dk
Kreinik Mori #8050 - black
Needlepoint Inc. #0143 - wine red dk
Needlepoint Inc. #0324 - blue dk
Au ver a Soie #4645 - rose med
Kreinik #4 Braid #102 - vatican gold
Kreinik Mori #0103 - rose lt
Kreinik Mori #5053 - blue lt
Kreinik Mori #8000 - white
Needlepoint Inc. #0974 - brown
Kreinik Mori #4215 - olive green med
Kreinik Mori #4216 - olive green dk
Kreinik Mori #0523 - grey lt
Au ver a Soie #4147 - pink lt
Needlepoint Inc. #0964 - taupe med
Needlepoint Inc. #0126 - brick red dk
Zweigart 28ct Cashel Linen - Raw Linen
DMC #12 Perle Cotton #642 taupe lt or other choice of thread for Hemstitching.
#24 tapestry needle
Stitches used in this Sampler:
Satin Stitch Wave
Double Running Stitch

Broad Cross Stitch
Half Rhodes Stitch
Diamond Ray Stitch
Double Straight Cross Stitch
Diagonal Rhodes Butterfly
Double Cross Eyelet
Algerian Eyelet
Chequer Filling Stitch
Bowtie Stitch
Arrow Stitch
Eye Stitch
Fancy Brick Stitch
Eyelet Flower
Modified Fern Stitch
Cloud Filling Stitch
Double Leviathan Stitch
Double Cross Stitch
Double Tied Oblong Cross
Elongated Rhodes Stitch
Crossed Crosses
English Stitch
Bound Cross Stitch
Reversed Eyelet
Expanded Ray Stitch
Flower Stitch
Foliage Stitch
Four-Sided Stitch
Smyrna Cross Stitch
Detached Chain Stitch
Cross Stitch over ONE fabric thread
French Knot
Diamond Eyelet
Satin Stitch
---
PDF Pattern Purchase and Download Instructions
Copyright Reminder: As a quick reminder, all of our PDF patterns are copyright protected and – as with all our patterns – are not permitted to be copied or distributed. We appreciate you sharing links here with your friends rather than sharing the actual PDFs :) Thank you!
Payment & Security
Your payment information is processed securely. We do not store credit card details nor have access to your credit card information.