Roll over image to zoom in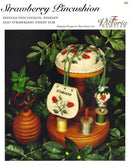 Description
Spindle Pincushion, Pinkeep and Strawberry Emery... This beautiful project features a Victorian-style pincushion replica; a copy of an antique spindle pincushion dated circa the mid to late 1800s.
BUY YOUR WOODEN SPINDLE PINCUSHION FORM FROM THE CRAFTSMAN HERE!
I've used delicious silks and overdyes of leaf greens and rosy reds with some sparkling white beadwork for the strawberry flowers. The wooden spindle base is about 6.5" tall and is hand-made of alder wood. It has wooden pegs for decorative thread spools, a turned spindle and then another round platform for the stuffed cushion. (Alternatively, you could finish this pattern with the Mahogany Pincushion Tray.) I've included several matching strawberry smalls to hang from top: a strawberry pinkeep and an embroidered 'strawberry emery', that can be used to sharpen your needles if stuffed with emery sand. What a wonderful way to reach through the centuries to our shared needlework past with our needlework sisters! - Thea  
Pincushion top:
Design area: 58w x 58h (4.1" wide x 4.1" high)
Model: 28ct Cashel Linen - Light Sand: 
Cut fabric: 9" wide x 9" high for finishing
Pinkeep Front:
Design Area: 36w x 34h (2.6" wide x 2.4" high)
Model: 28ct Cashel Linen - Light Sand: 
Cut fabric: 4.5" wide x 4.5" high for finishing
Strawberry:
Design area: 55w x 31h (3.9" wide x 2.2" high)
Model: 28ct Cashel Linen - Light Sand: 
Cut fabric: 6" wide x 4" high for finishing
Suggested Materials
Gloriana silk #053 "Granny Smith" - greens lt

Kreinik Mori #1117 - red med

Kreinik Mori #8000 - white

Gloriana silk #073 "Cottage Woods" - multi

Needlepoint Inc. #448 - red lt

Gloriana silk #117 "Elizabethan Green" - greens dk

Kreinik #4 Braid #3215 - metallic green

Needlepoint Inc. #226 - red dk

SJ Designs seed bead #11053 - white

Mill Hill seed bead #62041 - yellow

#24 Tapestry Needle

#10 short Beading Needle

Zweigart 28ct Cashel Linen - Light Sand 
Suggested Finishing Materials:
Optional: Get your own Wooden Pincushion form and Wool Roving to finish this project! This design fits into both wooden Spindle Pincushion, and our Mahogany Tray Pincushion. If you'd rather use other materials or tools for finishing, feel free to do so!
Genuine Wool Roving to stuff Pincushion

Spindle Pincushion OR 

Mahogany Tray Pincushion

DMC #12 Perle Cotton #ecru

Cotton sewing thread (contrast & match linen fabric)

1/8" wide Satin Ribbon - green dk

4 " w x 12" h - Backing fabric (cotton - matching to linen),

3" x 3" piece - Wool Felt (colour of your choice),

4 ply Mat Board (Acid-Free)

2 ply Mat Board (Acid-Free)

Polyester Fibre Fill

Straight Pins (silk and quilters)

Aileen's Tacky Glue

Freezer Paper

  

Water Soluble Marking pen OR Quilters chalk pencil

 

sharp paper scissors

  

Iron

  

Rotary cutter, clear plastic ruler, and cutting mat.
Stitches Used in this Sampler:
Cross Stitch

Cross Stitch over ONE fabric thread

Back Stitch

Algerian Eyelet
---
PDF Pattern Purchase and Download Instructions
Copyright Reminder: As a quick reminder, all of our PDF patterns are copyright protected and – as with all our patterns – are not permitted to be copied or distributed. We appreciate you sharing links here with your friends rather than sharing the actual PDFs :) Thank you!
Payment & Security
Your payment information is processed securely. We do not store credit card details nor have access to your credit card information.