Roll over image to zoom in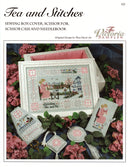 Description
Stitcher's Box, Two Scissors Fobs, Scissors Case and Needle-book 
This sampler can be finished as a needlework box top, but can also be framed and hung on a wall, or turned into a pillow top! There are 14 separate whitework areas surrounding the center Cross Stitched area, each are easy to learn for an intermediate Hardanger student. The four corners consist of four different needlewoven centers, and each one of them will give you a wonderful introduction to the more challenging types of stitches in Hardanger. The other 'squares' contain various forms of simple pulled thread work or drawn thread work, and makes this box top particularly interesting to display when you've finished! In the center is a stitcher waiting for a friend to have tea and perhaps stitch in the garden with her. A typical Victorian mansion is shown at right, and a lamp post with hanging baskets and a blooming cherry tree typify a Victorian spring beside the garden walkway. I've also designed three stitching accessories, all taken from parts of the box top, and these were beautifully stitched by one of our VS Stitchers, Linda Nelson. Our Lisa has done a wonderful job with the finishing, and has not only inserted this design inside the box top, but also finished all the stitching accessories as well. All in all, this is such a lovely stitching box, you might find room for a few of your other stitching treasures! - Thea
Box Top Cover
Design Area: 94w x 66h (6.7" wide x 4.7" high)
Model: 28ct Cashel Linen - Confederate Grey:
Cut fabric: 12" wide x 8" high for finishing
Scissors Case
Design Area: 30w x 49h (2.1" wide x 3.5" high)
Model: 28ct Cashel Linen - Confederate Grey:
Cut fabric: 6 " wide x 8" high
Needlebook
Design Area: 62w x 54h (4.4" w x 3.85" h)
Model: 28ct Cashel Linen - Confederate Grey:
Cut fabric: 8 " wide x 6 high
Scissors Fob
Design Area: 22w x 22h (1.6" wide x 1.6" high)
Model: 28ct Cashel Linen - Confederate Grey:
Cut fabric: 4" wide x 4" high
Suggested Materials

Access Au ver a Soie #4624 - red
Access Au ver a Soie #4644 - antique rose med
Kreinik Mori #0553 - blue
Kreinik Mori #1092 - antique rose lt
Kreinik Mori #4077 - green dk
Kreinik Mori #7014 - golden tan
Kreinik Mori #7124 - cream
Kreinik Mori #8084 - grey blue
Needlepoint Inc. #0641 - green lt
Needlepoint Inc. #0964 - grey brown
Caron Waterlilies #031 "Rose Quartz" - white, pink, gold
Access Au ver a Soie #3341 - taupe lt
Kreinik Mori #0113 - flesh
Kreinik Mori #0923 - yellow
Kreinik Mori #1205 - antique rose dk
Kreinik Mori #8000 - white
Needlepoint Inc. #0642 - green med
Needlepoint Inc. #0923 - colonial blue
Needlepoint Inc. #0967 - brown dk
SJ Designs seed bead #11005 - white
Zweigart 28ct Cashel Linen - Confederate Grey 
DMC #8 Perle Cotton - white
DMC #12 Perle Cotton - white
#24 tapestry needle
#10 short beading needle
Stitches used in this Sampler:
Kloster Blocks
Sheaf Stitch

Algerian Eyelets
Curled V in a Fan
Satin Stitch Pins
Four-Sided Stitch
Square Eyelet
Braided Cross Stitch
Cross Stitch over ONE fabric thread
Back Stitch
Spider in Lace
Single Cross Eyelets
Hemstitching
Spider Web Flower
Three Sided Doves Eyes
Diagonal Pins
Overcast Star Filling
Pulled Bricking Stitch
Dove's Cote
Cushion Stitches
Interlaced Hemstitch
Herringbone Stitch
French Knot
Wrapped Herringbone
---
PDF Pattern Purchase and Download Instructions
Copyright Reminder: As a quick reminder, all of our PDF patterns are copyright protected and – as with all our patterns – are not permitted to be copied or distributed. We appreciate you sharing links here with your friends rather than sharing the actual PDFs :) Thank you!
Payment & Security
Your payment information is processed securely. We do not store credit card details nor have access to your credit card information.