Roll over image to zoom in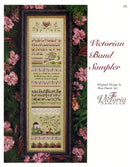 Description
"Love is a fruit in Season at all times and within reach of every hand..." - Mother Theresa Stitch this lovely sampler in the Victorian Tradition! The third and last project in the Victorian Collection, this stunning 24" long Band Sampler is inspired by #224 Victorian Purse and Smalls, and #205 Victorian Pincushion and Smalls. This beautiful Victorian Band Sampler is stitched on 28ct Cashel Linen - Willow Green, but Zweigart manufacturer is no longer making it in 28ct. So, we recommend you use the 32ct Willow Green (which IS available) or a 28ct Summer Khaki, or any other greenish-beige linen. You will be stitching with over-dyed silk and silk flosses, silk ribbons, wool, pearls, and sparkling beads. The topper is a gorgeous Bargello heart with a vine, above some creamy lacy stitching, The Alphabet and then a scene picked out in gorgeous colours in petit Cross Stitches, of a large meeting house, and the tree of life, as well as petit bands for interest and fun. Further down, Mother Theresa's inspiring verse is stitched within two bands of silk ribbon flowers. Another alphabet follows, and after some more creamy lace, there's an English country scene with two friends reaching for the fruit of the 'love' tree in their garden. More flowers, and at the bottom is a delicious row of Bargello, incorporating the colours already used in the sampler. Enjoy stitching this fun sampler full of exquisite colour, fun and exciting specialty stitches, and a meaningful verse of love for all seasons.  – Thea

Design area: 64w x 283h (4.6" wide x 20.2" high)
Model: 28ct Cashel Linen - Summer Khaki:
Cut fabric: 11" wide x 26" high for framing

Suggested Materials
Gloriana silk #045 "Lacquered Gold"- golds 
Gloriana silk #172 "Arroyo" - multi grey tans 
DMC Medici Wool - white 
Kreinik Mori #0115 - pink 
Kreinik Mori #8050 - black 
Needlepoint Inc. #331 - avocado lt 
Needlepoint Inc. #335 - avocado dk 
Needlepoint Inc. #673 - grey blue 
Treenway 3.5mm silk ribbon #022 "Ballet Slippers" - rose 
Dinky Dyes 4mm silk ribbon - green 
Access Trebizond (silk thick twist) #515 - rose 
Gloriana silk #053 "Granny Smith Green" - greens 
Gloriana silk #194 "Flowers of Italy" - multi gold, green, pink 
Kreinik #4 Braid #002 - metallic gold 
Kreinik Mori #4216 - olive green dk 
Kreinik Mori #8000 - white 
Access Au ver a Soie #4626 - garnet vy dk 
Needlepoint Inc. #124 - brick red med 
Needlepoint Inc. #333 - avocado med dk 
YLI 4mm silk ribbon #022 - mauve 
SJ Designs 2mm pearl beads - white 
SJ Designs seed bead #462E - rainbow olive 
SJ Designs petite bead #1887 - aspen green 
Mill Hill petite bead #40557 - gold 
Zweigart 28ct Cashel Linen - Willow Green or Summer Khaki  
DMC #8 Perle Cotton - white (thick twist)
#24 Tapestry Needle
#10 short beading needle 
Stitches used in this Sampler:
Bargello
Satin Stitch
Cross Stitch
Cross Stitch over ONE fabric thread
Herringbone Stitch
Arrowhead Stitch
Back Stitch
Double Running Stitches
Rice Stitch
Algerian Eyelets
Holbein Stitch
Reversed Cushion Stitch
Partial Scotch Stitch
Lazy Daisy Stitch
Double Herringbone Stitch
Bosnia Stitch
Diamond Eyelet
Sheaf Stitch
French Knots
Smyrna Cross
Leaf Stitch
---
PDF Pattern Purchase and Download Instructions
Copyright Reminder: As a quick reminder, all of our PDF patterns are copyright protected and – as with all our patterns – are not permitted to be copied or distributed. We appreciate you sharing links here with your friends rather than sharing the actual PDFs :) Thank you!
Payment & Security
Your payment information is processed securely. We do not store credit card details nor have access to your credit card information.