Roll over image to zoom in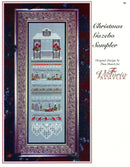 Description
"My Christmas Garden is a joy
With holly green and crimson red.
Snow like frosting on each bough,
And heavenly singing overhead."
An elegant wrought iron Gazebo nestling in crisp white snow shows off the gorgeous silk Poinsettias beautifully! My little verse can be changed so that the first phrase reads:"My Winter Garden" if you don't want to emphasize Christmas. I used some delicious overdyed silk ribbon and flosses, as well as a variety of richly coloured silk floss for the stitching. I then added lustrous pearls, seed beads, sequins, silk ribbons and sparkling metallics for this new Christmas Gazebo sampler. Adorable little red cardinals frolic all through this sampler, adding joy and happiness to the quiet gentle scene. You will learn how to work the following stitches, including the Herringbone, Honeycomb Hemstitch, simple silk ribbon, Rhodes Heart, Diamond Eyelet, Plait Stitch, Smyrna Crosses, and various filling stitches for the Hardanger area which forms the lower band. This sampler is worked on different fabric than Silk Wysteria, Gazebo Roses, Sweet Pea, and Bougainvillea samplers, although all of the Gazebo Samplers are a similar concept and size. Enjoy stitching this exquisite gazebo sampler to give away, or keep for yourself this Christmas! This leaflet is dedicated to the gardener at Christmas! May you always keep a garden in your heart. - Thea
Design area: 245h x 64w (17.5" high x 4.5" wide)
Model: 28ct Cashel Linen - Smokey Pearl 
Cut fabric: 24" high X 11" wide
Suggested Materials 
Trebizond TRA125 white (1 spool)
Gloriana silk #045 "Lacquered Gold" - multi gold
Caron Waterlilies #121 "Evergreen" - multi blue greens
Kreinik Cable #002P - metallic gold
Kreinik Mori #8000 - white
Access Au ver a Soie #3426 - pine green dk
Needlepoint Inc. #0322 - grey blue lt
Needlepoint Inc. #0972 - tan
Caron Waterlilies #045 "Flame" - multi red purple
Access Soie 100/3 #004 - grey teal ul lt
Access Au ver a Soie #noir - black
Access Au ver a Soie #2126 - green med
Needlepoint Inc. #0925 - grey blue dk
Needlepoint Inc. #0974 - brown dk
YLI 4mm silk ribbon #129 - red
Island Fibres 4mm silk ribbon #30424 - multi
SJ Designs 2mm pearl beads - white
SJ Designs seed beads #1199 - iridescent wine
Mill Hill petite beads #40557 - gold
Sequins Stars - gold
Zweigart 28ct Cashel Linen - Smoky Pearl 
DMC #12 Perle Cotton - white 
#24 Tapestry Needle
#10 short Beading Needle
Stitches used in this Sampler:
Cross Stitch
Cross Stitch over ONE fabric thread
Backstitch
Straight Stitch
Lazy Daisy
Beadwork
French Knots
Colonial Knots
Bargello
Three Sided Stitch
Couching
Diamond Eyelets
Smyrna Cross
Honeycomb Hemstitch
Plait Stitch
Herringbone Stitch
Klosters
Woven Bars
Dove's Eyes
Partial Greek Cross
Japanese Ribbon Stitch
Rhodes Heart 
---
PDF Pattern Purchase and Download Instructions
Copyright Reminder: As a quick reminder, all of our PDF patterns are copyright protected and – as with all our patterns – are not permitted to be copied or distributed. We appreciate you sharing links here with your friends rather than sharing the actual PDFs :) Thank you!
Payment & Security
Your payment information is processed securely. We do not store credit card details nor have access to your credit card information.