Roll over image to zoom in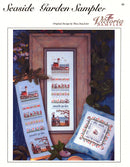 Description
Seagulls cry and breezes blow in this delightful Seaside Garden Sampler. Stitched using many colours of silk flosses, overdyed silks and cottons blended with soft blue metallic on Miracle Mint linen, this Sampler is a coastal addition to the Victorian Garden series. You can enter the garden at the bottom of the sampler, through the old wooden fence beside the shade of a pine tree. An ship's anchor leans against the fence, on the piling is a seagull waiting for a handout, and a boat sails past the wharf in the distance. In the foreground are the beach grasses and small wildflowers and a shady pine tree. Walk along the path, sniffing the salty breezes, and enjoy the seashells and starfish lying on the soft sandy soil. Only hardy plants survive so close to the beach. On the far point of land at the top of the sampler, there are some beautiful rockgardens, and a beacon on the lighthouse which calls sailors safely into harbour. This Learning Sampler is perfect for the beginner through intermediate specialty stitcher. You will practice an interesting variety of stitches: French Knots, Backstitches, Satin Stitches, some Pulled Thread Bands, Fern Stitches, Eyelet Stitches, and Cross Stitches over one fabric thread for that petit point look! Take some time to walk along the beach and build a few sandcastles near this refreshing Seaside Garden! - Thea

Design Area: 30w x 115h (2 .1" Wide x 8.2" High)
Framed Model: 28ct Cashel Linen - Miracle Mint 
Cut fabric: 8" X 14"
Bellpull Model: 28ct Cashel Linen - Ice Blue  
Cut fabric: 6" X 14" 
Suggested Materials

Gentle Art Sampler Threads - Raspberry Parfait - multi reds
Gentle Art Sampler Threads - Sable - multi browns med
Gentle Art Sampler Threads - Highland Heather - pink/mauve
Thread Gatherer Silk 'N Colors #055 - Camouflage Green -multi greens
Needlepoint Inc. #0964 - grey brown med
Access Soie 100/3 #004 - grey teal (blue-green)
Access Au Ver a Soie #3714 - green lt
Access Au Ver a Soie #3846 brown vy dk
Kreinik Mori #0304 - peach
Kreinik Mori #0512 - grey ultra lt
Kreinik Mori #0523 - grey lt
Kreinik Mori #0553 - blue med
Kreinik Mori #0923 - yellow
Kreinik Mori #1096 - dusty plum
Kreinik Mori #5053 - blue lt
Kreinik Mori #5055 - blue dk
Kreinik Mori #7014 - tan lt
Kreinik Mori #8000 - white
Kreinik #4 Braid #9294 - metallic blue lt
SJ Designs Petite bead #1814 blue
SJ Designs Petite bead #1818 silver
SJ Designs Seed bead #11005 white
Anchor charm - matte silver

28ct Cashel Linen - Miracle Mint OR Ice Blue OR other colour choice

#24 Tapestry Needle

#10 short Beading Needle
Stitches used in this Sampler:

French Knot
Cross Stitch
Backstitch
Plait Stitch
Algerian Eyelets
Satin Stitches
Wrapped Herringbone
Cross Stitch over one
Four Sided Stitch
Diamond Eyelet
Fern Stitch
Pins Pulled Stitch
---
PDF Pattern Purchase and Download Instructions
Copyright Reminder: As a quick reminder, all of our PDF patterns are copyright protected and – as with all our patterns – are not permitted to be copied or distributed. We appreciate you sharing links with your friends rather than sharing the actual PDFs :) Thank you!
Payment & Security
Your payment information is processed securely. We do not store credit card details nor have access to your credit card information.