Roll over image to zoom in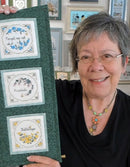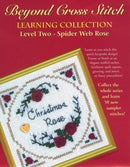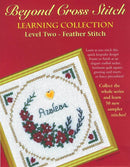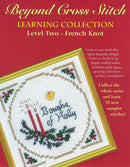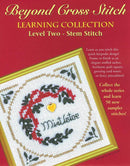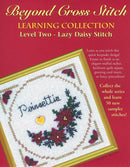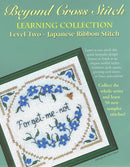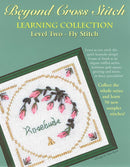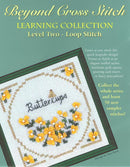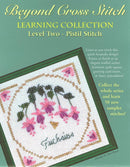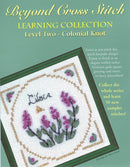 Description
Register here to Sign up for our Victoria Sampler Level Two online Course to learn the basic Specialty Stitches Thea uses in her exquisite Sampler designs.  Included in this Level Two Course are:
10 video lessons based on the Beyond Cross Stitch series of learning kits. 

Silk Ribbon Basics - valuable hints to use with Silk Ribbons

10 PDF patterns so you can stitch along with Thea as she teaches each Specialty Stitch!

NOTE: This course expires June 22, 2024
In this second Level, you will be asked to learn the stitches using a pliable and soft Silk Ribbon. You can use this ribbon in the same way as you use regular thread, except that there are some special techniques that change the way you might use regular floss. There is a special PDF available at the start of the video classes called "Silk Ribbon Basics". Read it thoroughly, as each hint is very helpful as you work with Silk Ribbon. Remember that you're looking for unstructured and three dimensional effects, not precision in tension and counting!
If you'd rather not use Silk Ribbon, or you don't have any, you can learn many of the stitches in Level Two using 2 or more strands of floss or perhaps 1 strand of #8 or #12 Perle Cotton. The stitches are then done the same way, but with your usual tension.
Level: Intermediate
Prerequisite: This course assumes you know how to cross stitch on linen and Beyond Cross Stitch Level 1. If you are new to counted work on linen, we recommend our "Introduction to Cross Stitch on Linen" Course which includes a sweet free downloadable pattern.
Contents: In this course, you will learn the following Intermediate Free Form stitches:
Spider Web Rose (Silk Ribbon)
Japanese Ribbon Stitch

(Silk Ribbon)

Feather Stitch
French Knots

(Silk Ribbon)

Stem Stitches
Lazy Daisy Stitches

(Silk Ribbon)

Fly Stitches
Loop Stitch

(Silk Ribbon)

Pistil Stitch
Colonial Knot

(Silk Ribbon)
Learning Goals: At the end of this course you will be able to produce every specialty stitch in Level Two!  All 10 Beyond Cross Stitch Level 2 downloadable PDF patterns included in the series are
Christmas Rose - Spider Web Rose
Azaleas - Japanese Ribbon Stitch
Boughs of Holly - Feather Stitch
Mistletoe - French Knots
Poinsettia - Stem Stitches
Forget-me-not - Lazy Daisy Stitches
Rosebuds - Fly Stitch
Buttercups - Loop Stitch
Fuchsia - Pistil Stitch
Lilacs - Colonial Knot
When you enter your Academy class, you will find a Teacher's welcome, and a Silk Ribbon FAQ as a downloadable PDF for you to refer to.  Then, at the start of each video lesson, Thea will first show you the BCS Level Two pattern that she is stitching.  You will be able to download it, and then use your own materials to follow along with that lesson's specialty stitch! Being able to follow along with your own floss and materials will make this class totally immersive and so exciting! 
Our Classroom Assistant, Donna G., has already done the Cross Stitches of each pattern at the start of each video lesson. Thea recommends that you prepare for each lesson by working the Cross Stitches in each Student Kit before you view the matching video Lesson. That way you can enjoy stitching along with Thea as she shows you how to count out and stitch each Specialty Stitch.
With the Level 2 PDF patterns, you can make a quilt.. or several pillows, or box tops or greeting cards! There are endless ways to use these sweet designs.. each one pretty enough to give to your friends or family! 
NOTE: This course expires June 22, 2024
Payment & Security
Your payment information is processed securely. We do not store credit card details nor have access to your credit card information.