Roll over image to zoom in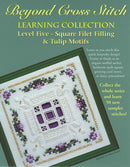 Description
LEVEL 5 - #07 "SQUARE FILET FILLING AND TULIP MOTIFS"
This is ONLY a Downloadable Chart. (no materials will be sent to you)
These are a variation of Dove's Eye and are used with wrapped, woven or divided bars. They add to the lacy effect of a Hardanger piece. Tulip Motifs are also called Ship Motifs (because they resemble fronts of Viking ships) These are great fillers in areas of Hardanger.  They help to join areas of Kloster Blocks or Satin Stitching together.
Design area: 39h x 40w (3.3" x 3.3")
Cut fabric for models: 25ct Lugana 6" X 6"

Do you want to stitch Thea's Sampler Designs but find you need some extra help with the Hardanger techniques? We recommend you learn in the Victoria Sampler Academy!  Just visit: VictoriaSamplerAcademy.com This level is the first of two Hardanger levels, and starts you off learning basic techniques. Each is designed to follow the previous one building your Hardanger skills step by step. Each one is stitched on simple even weave fabric.. Stitch them in progression, starting with Level 5 #01. 
Payment & Security
Your payment information is processed securely. We do not store credit card details nor have access to your credit card information.