Roll over image to zoom in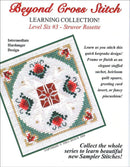 Description
LEVEL 6 - #03 "STRUVOR ROSETTE"
This is ONLY a Downloadable Chart. (no materials will be sent to you)
This is a beautiful filling stitch to complete and resembles a very popular Scandinavian cookie! With such a delicious name, you know you'll enjoy creating it!  It combines Divided Woven Bars over 2 fabric threads and Divided Branches. They are both fun and easy techniques for the advanced Hardanger stitcher to master. Enjoy learning this beautiful Hardanger needle weaving motif! 
Design area: 39h x 40w (3.3" x 3.3")
Cut fabric for models: 25ct Dublin 6" X 6"

Do you want to stitch Thea's Sampler Designs but find you need some extra help with the Advanced Hardanger weaving techniques? We recommend you learn in the Victoria Sampler Academy!  Just visit: VictoriaSamplerAcademy.com. Level 5 has started you off learning basic techniques, but Level 6 deepens your Hardanger knowledge and practice. Each is designed to follow the previous one building your Hardanger skills step by step. Each one is stitched on simple even weave fabric.. Stitch them in progression, starting with Level 6 #01.
Payment & Security
Your payment information is processed securely. We do not store credit card details nor have access to your credit card information.