Roll over image to zoom in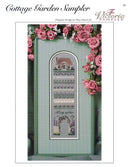 Description
Completely worked in all silk threads, the lower entrance to the cottage garden is through the little trellised gate set in a white picket fence, overgrown with tall delphinium, lupines, and buttercups. A rambling vine of sweet peas tumbles over the trellis overhead. Then you walk by a multitude of Victorian garden beds filled with pretty flowers, grassy areas, hedges and little white fences, until you reach the lovely stylized little English cottage in the distance. It has a thatched roof and old fashioned roses climbing over the front door under the eaves and is surrounded by herbs and flowers. A delight of textures and techniques for the experienced stitcher, this Learning Sampler is ideal for the beginning specialty stitcher! You will have a chance to stitch the Scotch Stitch, the Gobelin Filling Stitch, French Knot, Hemstitch, Ray Stitch, Algerian Eye Pulled Stitch, Lazy Daisy, Sheaf Stitch, modified Diamond Eye, Plait Stitch, simple Hardanger with Dove's Eyes, Fly Stitch, Queen Stitch, Knit Stitch, Four Sided Pulled Stitch, and Satin Stitches/Bargello!
Design area:
113h x 46w (8" high X 2 1/4" wide)
Model:
28ct Quaker Cloth Rue Green
(
Cut fabric:
14" high X 9" wide for framing.)
Suggested Materials

Caron Collection Waterlilies - Cafe au Lait Access
Trebizond TRA 125 - white (Possible Substitute DMC #8 white Perle Cotton)
Access Soie 100 - 3 #004 - light grey/teal
Au Ver a Soie #1745 medium grey/teal
Au Ver a Soie - blanc/white
Au Ver a Soie #2511 yellow
Au Ver a Soie #3011 rose pink
Au Ver a Soie #4912 periwinkle blue
Au Ver a Soie #1343 purple
Au Ver a Soie #3346 taupe/brown
Au Ver a Soie #5025 dark blue/green
Au Ver a Soie #5023 medium blue/green
Au Ver a Soie #1835 grass green
28ct Quaker Cloth - Rue Green
#24 Tapestry needle
Stitches used in this Sampler:
Cross Stitch
Backstitch
Gobelin Filling Stitch
Satin Stitch
French Knot
Scotch Stitch
Couching
Hemstitching with Herringbone Stitch
Ray Stitch
Algerian Eye Stitch
Sheaf Stitch
Modified Diamond Eye Stitch
Long Armed Cross Stitch
Satin Stitch Kloster Block
Woven Bars
Doves Eyes
Queen Stitch
Knit Stitch
Four Sided Stitch
Bargello
---
PDF Pattern Purchase and Download Instructions
Copyright Reminder: As a quick reminder, all of our PDF patterns are copyright protected and – as with all our patterns – are not permitted to be copied or distributed. We appreciate you sharing links here with your friends rather than sharing the actual PDFs :) Thank you!
Payment & Security
Your payment information is processed securely. We do not store credit card details nor have access to your credit card information.