Roll over image to zoom in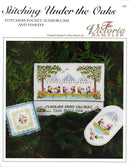 Description
"Stitching Under the Oaks" Needlepocket was created to convey that sense of loving camaraderie we feel as we stitch together. It is stitched on a light blue cashel linen with lovely silk flosses, to reflect the beautiful blue skies and bright colours of Florida, a tropical paradise where I've taught some special students. I really enjoyed including some different motifs of the area, including tables with stitchers sitting under the moss laden live Oak Trees, a lovely Hardanger Heart with a Blanket Stitched flower in the center, palm trees, the lake, pink roses, and even two wee Florida alligators to keep those pesky stitching errors at bay! You will find many additional specialty stitches and tidbits on both the front and the back of this pocket, including some drawn thread work, and some silk ribbon work to have fun with! There is an area at the lower front of the pocket to include your name and date to personalize your pocket (you can even accommodate a longer name than shown, if necessary). Be prepared to learn some new techniques and have some fun stitching the many Cross Stitched areas. To finish, instructions to create the pocket are at the back of this leaflet. The accompanying pinkeep and scissors case will also surely capture your hearts! I hope you will take this set to future retreats where we truly are drawn together in friendship as we stitch! - Thea
Suggested Materials
Gloriana silk #096 "Summer Foliage" - multi greens lt 
Kreinik Mori #0103 - flesh 
Kreinik Mori #2014 - yellow dk 
Kreinik Mori #8000 - white 
Needlepoint Inc. #481 - turquoise lt 
Needlepoint Inc. #766 - copper dk 
YLI 4mm silk ribbon #144 - pink 
Gloriana silk #206 "Olivine" - multi olive greens 
Kreinik Mori #0923 - gold yellow lt 
Kreinik Mori #2063 - orange 
Kreinik Mori #8050 black 
Needlepoint Inc. #564 - turquoise dk 
Needlepoint Inc. #571 - melon lt 
Krenik Mori #0433 - grey green lt 
Needlepoint Inc. #455 - purple 
Needlepoint Inc. #515 - mint green med 
Needlepoint Inc. #572 - melon med 
Needlepoint Inc. #693 - gold yellow med 
Needlepoint Inc. #964 - grey brown 
Mill Hill seed beads #03057 - cherry sorbet 
SJ Designs seed beads #11048 - sea green 
SJ Designs 2mm pearl beads - white 
SJ Designs 3x6mm pear shape pearl beads - white 
Boutique Trims - alligator charm 
Zweigart 28ct Cashel Linen - Ice Blue
DMC #8 Perle Cotton (thick twist) - white 
DMC #12 Perle Cotton (thin twist) - white 
#24 tapestry needle
#26 tapestry needle
#10 short beading needle
Stitches used :
Cross Stitch
Cross Stitch over ONE fabric thread
Back Stitch
Lazy Daisy
Satin Stitch
Spider Web Rose
Upright Cross
Interlaced Beaded Hemstitch
Fly Stitch
Plain Hemstitching
Kloster Blocks

Algerian Eyelet
Blanket Stitch Flower
Diagonal Twisted Spokes
Bargello Wave
---
PDF Pattern Purchase and Download Instructions
Copyright Reminder: As a quick reminder, all of our PDF patterns are copyright protected and – as with all our patterns – are not permitted to be copied or distributed. We appreciate you sharing links here with your friends rather than sharing the actual PDFs :) Thank you!
Payment & Security
Your payment information is processed securely. We do not store credit card details nor have access to your credit card information.