Roll over image to zoom in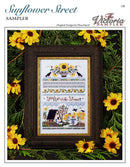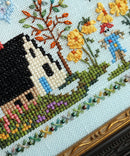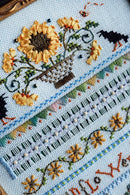 Description
I love Sunflowers! Bright yellows and golds, surrounding the heart of the sunflower where the delicious seeds grow, they are some of my favorite flowers in a Harvest Garden. We've included detailed colour photos and finishing instructions for the pillow as well! Stitched with luscious over-dyed silks, ribbons, silk flosses, metallic, and sparkling beads, it is perfectly designed for the student. It is not too big, so you can more effectively learn how to stitch the few lovely specialty stitches like Bullion Knots, Triple Cross Stitches, and Silk Ribbon work; some Drawn Thread; and even a band of Pulled Thread work. Cross Stitched areas at the top and bottom depict a basket of Sunflowers just picked from the garden surrounding the sweet little cottage. You can finish stitching this little sampler in less than a week, although you may want to take a lot more time to fully enjoy the step-by-step journey to "Sunflower Street". Savor your stitching! -Thea
Design area: 64w x 101h (4.6" wide x 7.2" high)
Model: 28ct Cashel Linen - Ice Blue 
Cut fabric: 11" wide x 13" high for finishing
Suggested Materials
Gloriana #073 Cottage Woods -  multi pink, greens
Kreiniik #4 Braid #9294 - metallic multi blue vy lt
Kreinik Mori #8050 - black
Needlepoint Inc. #113 - bright blue
Needlepoint Inc. #184 - brown
Needlepoint Inc. #253 - green med
Needlepoint Inc. #473 - yellow
Needlepoint Inc. #635 - salmon dk
Needlepoint Inc. #761 - tan lt

Gloriana silk #087 "Forest" - greens

Gloriana silk #178 "Mocha" - taupes

Kreinik Mori #0712 - yellow ultra lt

Kreinik Mori #6106 - purple

Needlepoint Inc. #476 - caramel

Needlepoint Inc. #571 - salmon lt

Needlepoint Inc. #811 - blue lt

Treenway 3.5mm silk ribbon #037 "Maize" - yellow

Mill Hill seed bead #00123 - cream

SJ Designs bead #11462EP - olive plated rainbow

SJ Designs petite bead #1809 - grass green

Zweigart 28ct Cashel Linen - Ice Blue

DMC #8 Perle Cotton - #3325 baby blue

DMC #12 Perle Cotton - #676 old gold

#24 tapestry needle

#26 tapestry needle

#10 short beading needle

#7 straw/milliners needle
Stitches Used in this Sampler:
Cross Stitch

Cross Stitch over ONE fabric thread

Whipped Back Stitch

Satin Stitch

Japanese Ribbon Stitch

French Knot

Herringbone Stitch

Smyrna Cross Stitch

Satin Stitch Triangles

Honeycomb Hemstitch

Bullion Knot

Lazy Daisy Stitch

Four-Sided Stitch

Eyelet Stitch

Triple Cross Stitch

Kloster Blocks

Algerian Eyelet

Blanket Stitch

Blanket Stitch flower
---
PDF Pattern Purchase and Download Instructions
Copyright Reminder: As a quick reminder, all of our PDF patterns are copyright protected and – as with all our patterns – are not permitted to be copied or distributed. We appreciate you sharing links here with your friends rather than sharing the actual PDFs :) Thank you!
Payment & Security
Your payment information is processed securely. We do not store credit card details nor have access to your credit card information.