Roll over image to zoom in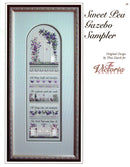 Description
A companion piece to the Silk Wysteria and Gazebo Roses Samplers! 
"All things bright and beautiful All Creatures great and small All things wise and wonderful The Lord God made them all..." 
Deep blue Clematis twining up the right side of a new gleaming white Gazebo.. and delicate tendrils of the Sweet Pea climbing up the left, give a wonderful feeling of joy to this sampler. It has been a joy to stitch! Last summer, some of my stitching friends recommended that I design 'another' gazebo sampler, and I agreed! However, I'd finished the previous 'gazebo' samplers many years ago, and was not sure I could do another one that would augment the series. Anyway, after their kind suggestions and participation in an informal stitcher's poll, and finally some deep thought on my part, I began Sweet Pea Sampler... As I stitched it felt as though it was stitching itself! No doubt my muse had already worked out what she wanted, cause I just had to follow my heart. There are many scrumptious colours, fibers and beads in this sampler, which surprised me as I stitched on, and will delight you as you stitch, I'm sure! This sampler is sitched on a matching fabric to the Silk Wysteria and Gazebo Roses samplers, and glories in the vibrant fuschia, mauve, deep periwinkle blue and white colours, with sparkling coloured metallics and beads... it's a treat for the stitching gardener in you! Enjoy!
Design area: 244h x 64w (17.5" high x 4.5" wide)
Model: 28ct Confederate Grey Cashel Linen
(Cut fabric: 24" high X 11" wide)

Suggested Materials

Thread Gath SilknColors floss #112 - Wild Violets
Thread Gath SilknColors floss #029 - Grape Melange
Caron Waterlilies - #121 - evergreen
Kreinik Mori #6116 - pink
Kreinik Mori #8000 - white
Kreinik #4 braid #023 - pink
Access Soie Perlee #621 - lt green
Au ver a Soie/Soie D'Alger #5024 - green
Au ver a Soie/Soie D'Alger #1343 - purple
Au ver a Soie/Soie D'Alger #3346 - brown
YLI 4mm silk ribbon -#74 - lt green
YLI 4mm silk ribbon -#33 - med green
YLI 4mm silk ribbon -#117 - deep blue
Island Fibres 4mm silk ribbon #VS02 "Sweet Pea"
SJ Designs 3x6 white pearl oval beads #WO36
SJ Designs 11 Silver Plated Rainbow beads 59P
SJ Designs 4mm White Discs hole on side
28ct Cashel Linen - Confederate Grey
Trebizond Silk TRA 125 white (3 spools) or DMC White Perle Cotton #8
DMC #12 Perle Cotton white
#24 Tapestry Needle
#10 short Beading Needle
Stitches used in this Sampler:

Beadwork
Smyrna Cross Stitch
Lazy Daisy Stitch
Japanese Ribbon Stitch
Double Leviathan Stitch
Double Running Stitch
Single Herringbone Hemstitch
Double Herringbone Hemstitch
Upright Crosses
Single Cross Eyelets
Scotch Stitch
Triple Cross Stitch
Rapid Eyelet Stitch
Partial Rhodes Stitch
Cross Stitch
Quarter Stitches
Backstitch
Satin Stitch
Kloster Blocks
Woven Bars
Wrapped Divided Bars
Doves Eyes
Pulled Algerian Eyes
Rhodes Heart
Rhodes Butterfly Stitch
Straight Stitch
Bargello
Couched Stitch
---
PDF Pattern Purchase and Download Instructions
Copyright Reminder: As a quick reminder, all of our PDF patterns are copyright protected and – as with all our patterns – are not permitted to be copied or distributed. We appreciate you sharing links here with your friends rather than sharing the actual PDFs :) Thank you!
Payment & Security
Your payment information is processed securely. We do not store credit card details nor have access to your credit card information.