Roll over image to zoom in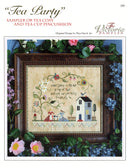 Description
"Come Share with me a Cup of Tea and Let our Earthly Troubles Be..."  Welcome to our Tea Party! This lovely Tea Cosy design was created during the summer, a time when there are so many beautiful flowers blooming here in Victoria. I wanted to include a bit of needle fantasy for fun and the result is a vine with 'counted' crewel work. I included a lot of Cross Stitch too, so those of you who are feeling a bit crewel challenged will feel more comfortable with the counted areas! The design shows two stitchers sharing a cup of special tea in the garden beside a white house. The birds are singing, and the vine curls around the scene in true floral abundance, giving you that loving feeling. The vine and floral motifs will challenge you to work a small bit of free form embroidery, but these can also be placed more carefully for those of you who want to count out the placement of each flower, so don't worry, you'll do just fine! :) We have used an elegant frame to show this piece on the front cover, but we've also created a gorgeous lined Tea Cosy model for you as well as the bonus design in this piece, a cup and saucer Teacup Pincushion! We found our own gold and cream striped lining fabric in our local fabric shop, but you can find some to suit your taste. This design will fit into any decor, and you can even enlarge it for a larger teapot, by adding some fabric around the outside of the design. Just follow the simple directions at the back of this leaflet to finish your stitching and make your own beautiful tea cosy. I hope you enjoy stitching and the sharing Tea with your favorite people! :) - Thea
Tea Cosy
Design Area: 132w x 111h (9.4" w x 7.9" h)
Tea Cosy Model: 28ct Vintage Cashel Linen "Country Mocha"
Cut fabric: 16" wide x 14" high for framing or finishing 
Suggested Materials
Gloriana #134 "Summer Smoke" - multi
Needlepoint Inc. #0771 - yellow
Au ver a Soie #creme - cream
Au ver a Soie #3334 - mauve
Au ver a Soie #4624 - red
Kreinik Mori #0103 - rose lt
Kreinik Mori #0553 - blue lt
DMC Floss #524 - fern green vy lt
Gentle Art "Raspberry Parfait" - multi reds
Gentle Art "Maple Syrup" - multi browns
Au ver a Soie #1435 - steel blue dk
Kreinik Mori #0115 - pink
Kreinik Mori #0434 - green med lt
Kreinik Mori #4166 - blue green
YLI 7mm silk ribbon #1 - white 
Needlepoint Inc. #0964 - grey brown
Kreinik Mori #0304 - peach
Kreinik Mori #4206 - green med
Kreinik Mori #4077 - green dk
Kreinik Mori #8084 - grey blue lt
Kreinik Mori #8050 - black
Kreinik #4 Braid #002HL - metallic gold
SJ Designs 2mm pearl beads - gold
SJ Designs petite bead #1816 - yellow gold
SJ Designs petite bead #18116 - red
Mill Hill petite bead #42030 - copper
Zweigart 28ct Vintage Cashel Linen - "Country Mocha" 
#24 or #26 tapestry needle,
#7 straw/milliners needle
#10 short beading needle
Stitches used in this Sampler:
Satin Stitch
Chain Stitch
Lazy Daisy Stitch
Smyrna Cross Stitch
Cross Stitch
Japanese Ribbon Stitch
Colonial Knot Stitch
French Knot
Foliage Stitch
Cross Stitch over ONE fabric thread
Fern Stitch
Bargello 
Back Stitch
Stem Stitch
Fly Stitch
Blanket Stitch
Couching
Long and Short Stitch
Upright Cross Stitch
Modified Queen Stitch
Bullion Knot Stitch
Feather Stitch 
---
PDF Pattern Purchase and Download Instructions
Copyright Reminder: As a quick reminder, all of our PDF patterns are copyright protected and – as with all our patterns – are not permitted to be copied or distributed. We appreciate you sharing links here with your friends rather than sharing the actual PDFs :) Thank you!
Payment & Security
Your payment information is processed securely. We do not store credit card details nor have access to your credit card information.