Roll over image to zoom in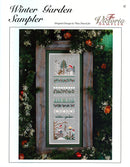 Description
Stitched with all silk threads, on smoky pearl linen, this sampler was a joy to design from start to finish! A jaunty snowman and his woodland friends are part of this delightful Winter Garden. Stitched using silk floss, overdyed silk, silk ribbon, silver metallic, and sparkling crystal beads on Smokey Pearl linen, this frosty garden sampler is a colourful addition to the Victorian Garden series. As you walk into this garden at the bottom of the sampler, you'll see a little fenced area surrounded with bird houses and feeders Some chickadees and red cardinals are enjoying the winter feast of seeds and berries on the bushes. Further on you'll find Hardanger snowflakes, and a band of holly, right under the first sign of spring, a bed of snowdrops in a sheltered corner of the garden. Right there you'll see some more chickadees in the pine trees, and a branch with berries to feed on. At the end of the garden, someone has built a snowman, and he watches over the bunnies and birds. This Learning Sampler is perfect for the beginning through intermediate specialty stitcher. You will practice some very basic Hardanger, Algerian Eyelets, Lazy Daisy Stitches, some Hemstitching, pulled Four Sided Stitches, Plait Stitches, Modified Crosses, Couching, Backstitching, and Colonial Knots. Take some time to walk through this delightful Winter Garden !
Design Area: 30w x 114h (2 .1" Wide x 8.1" High)
Model: 28ct Cashel Linen Smoky Pearl:
(Cut fabric: 8" X 14" for framing or 6" X 14" for bell pull)
Suggested Materials

Kreinik #4 Braid #001HL silver
Kreinik Mori #8000 white
Kreinik Mori #5055 slate blue med dk
Kreinik Mori #4167 green dk
Kreinik Mori #923 yellow
Needlepoint Inc. Silk #0974 brown med
Access Au Ver a Soie #4624 cranberry
Access Au Ver a Soie #3346 grey-brown
Access Au Ver a Soie #Noir black
Access Au Ver a Soie #5384 teal
Access Au Ver a Soie #0545 tangerine
Access Soie Perlee white
Caron Collection Waterlilies - evergreen
SJ Designs Beads #1813 red
SJ Designs Beads #1818 silver
YL1 4mm silk ribbon #001 white
28ct Cashel linen - Smoky Pearl
DMC #12 Perle Cotton - white
#24 tapestry needle
#10 short beading needle
Stitches used in this Sampler:

Cross Stitch
Colonial Knots
Backstitch
Plait Stitch
Couching
Modified Crosses
Upright Crosses
Woven Ribbon Hemstitch
Lazy Daisy
Kloster Blocks
Woven Bars
Dove's Eyes
Four Sided Stitches
---
PDF Pattern Purchase and Download Instructions
Copyright Reminder: As a quick reminder, all of our PDF patterns are copyright protected and – as with all our patterns – are not permitted to be copied or distributed. We appreciate you sharing links here with your friends rather than sharing the actual PDFs :) Thank you!
Payment & Security
Your payment information is processed securely. We do not store credit card details nor have access to your credit card information.