Roll over image to zoom in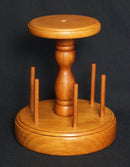 Description
NOTE! Delivery will be about a month.
Wooden Spindle Pincushion Form - for Waterlilies Pincushion, Strawberry Pincushion, Bumblebee Pincushion and Victorian Pincushion!  This Vintage Style Spindle Pincushion (or Sewing Mushroom) is beautifully traditional. Handcrafted in Italy, it is fashioned after an actual Shaker pincushion used years ago. Designed to be decorative and useful, with a turned center post holding your beautiful stitching aloft, it will be a showpiece for your sewing room for years to come! You can add a bit of whimsey by placing some antique wooden thread spools on the spindles for good effect or use it by your sewing table to hold your sewing threads as you do your hand sewing or embroidering.

Stands an imposing 7" tall (or 8" tall with stitched top), The base is approximately 5" across.
Payment & Security
Your payment information is processed securely. We do not store credit card details nor have access to your credit card information.